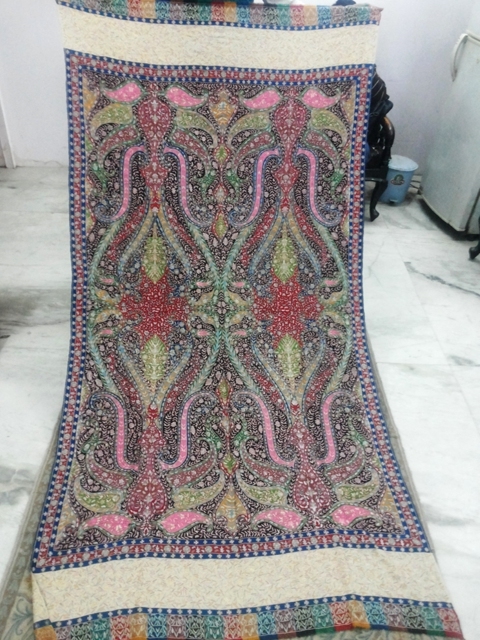 Pure Pashmina Kani Palla Shawls
Product Code : KKP03
Product Description
100% PURE PASHMINA KALAMKARI.
100% PASHMINA KALAMKARI WORK
100% PASHMINA KALAMKARI WORK
SIZES ARE 100 X 200CMS, 112.5 X 225CMS, OTHER SIZES ON ORDER BASIS.
THIS IS 100% PURE PASHMINA HANDMADE AND HAND SPUN.
THIS WORK IS DONE BY HAND WITH NEEDLES.
THIS KALAMKARI PASHMINA IS HANDMADE AND HANDPAINTED THEN HANDDONE EMBROIDERY IN A VERY MINUTE THREAD WORK IN IT WITH SKILLFUL LININGS WITH INSIDE DEEP INTERCREATE WORK WITH KEEP IN VIEW OF ITS GRACE AND GLORY OF HAND MADES WORKS OF INDIA.
A PIECE IS TAKING 6 MONTHS TO GET COMPLETE BY A SINGLE MANS HAND.
THIS WORK NEED LOTS OF MEDITATION AND TOO MUCH CONTROL ON BREATH AND CONTROL ON MAKING A THREAD WORK ON A PIECE ON DAILY BASIS FROM MORNING TO EVENING TILL 6 MONTHS.
I AM SUCH SO MUCH HONOURED AND THANKFUL OF GOD TO GAVE ME STRENGTH AND A CHANCE TO SELL THESE VALUABLE TREASURES OF THIS GODS HEAVEN EARTH.KALAM KARI WORK OF KASHMIR.