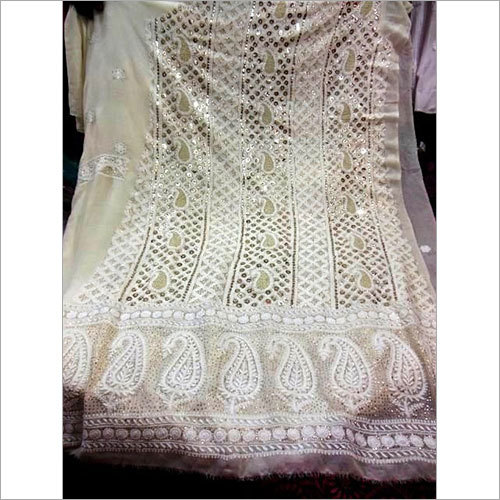 Kamdani chikan work suits/sarees/anarkali/dupattas
Product Code : KCWS01
Product Description
Mukesh or kamdani or badla work is mostly one and the same thing of embroidery work of India.It is prepared with thin silver and golden wire embroidery which we generally called in the whole mukesh work.

Mukesh work looks can be done on in any fabric whither in cotton or in pure Georgette or chiffon fabric whatever fabric will be.Mukesh is very famous in india during the time of mughals and maharajas ,this much placed with the chikenkari embroidery really gives a things a dress , sarees, suits or a dupattas a elgant and uniqueness in its own.

These designer dresses or anarkalis will take 3 to 6 months of hard work to prepare a one of its.

In the whole we can day kamdani work is not easiest but not difficult we called it is India badla work /kamdani work or mukesh work.

You can order your own kinds of embroideries designs or a chikan work .