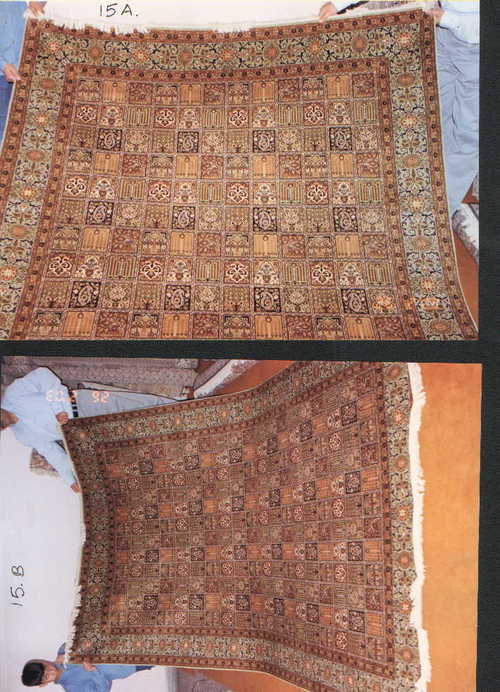 Indian Silk Carpet
Product Code : CARPET 15A & 15B
Product Description
We have gained immense appreciation in manufacturing and exporting beautifully designed Indian Silk Carpet. In order to win the trust of clients, this carpet is designed using 100% silk material that procured from authoritative vendors. This carpet is specially designed by our dedicated team of artisans and craftsman keeping in mind innovative & latest designs. Our offered carpet enhances the look of the décor. Indian Silk Carpet is delivered on-time without any delay that is highly appreciated by patrons.

Striking features:

Traditional look

Neat work

Elegant designs

Excellent tearing strength
Other information:

Conforming to the finest Kashmiri artistry, our Silk Carpets are exquisite in design and pattern. They are made from 100 persent Pure Silk thus soft on the feet.
Our Hand-Woven Silk Carpets are renowned for their exclusive designs, colors, shades, etc. Featuring splendid beauty with spectacular designs thy mirror the elegant beauty of the nature.
Our team of professional designers and craftsmen embellish Silk Carpets with perfectly styled patterns.