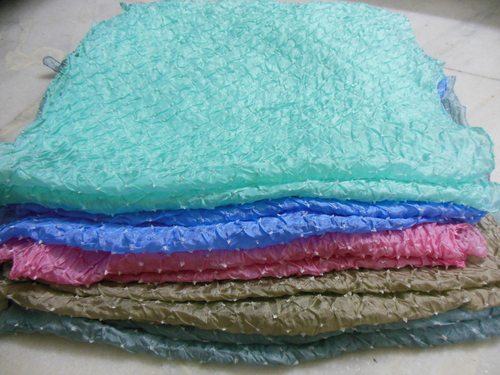 100% pure silk bhandhani
Product Code : 99994
Product Description
A very high quality of workmanship with furious talent by a skillful from a rural Womens who are Showing her talent with Sensibility with an accuracy work by there humour of work.
It is very specially said bandhani ,( Silk Bhandhani Or Silk Bandani or Silk bandanie).((100% Silk bhandhani.
100% cotton bhandhani, 100% pure silk bhandhani, 100% silk bandani. ))
There are various techniques and differnt kinds of styles in doing so bhandhani's.
Especially, These are done in Indian Sarees ,Dupattas and On suits as well as in Yardge of Fabrics.
The Most impotant this in Bhandhani is accuracy and toleration in placing the lines and desings of in each fabric.
The runnig fabrics usually we do have in 100% cotton and In silks .
We have roles from 10 metres to 25 metres.
But ,As it was Normal and centuries workmanship derived from the mughal and maharajas,who were keen to give gifts to Maharanis and Queens,
In view of different clients from differnt parts of world Our clients Were very keen in Knowing How to Utlize in the market with the exchange view of scarfs stoles shawls and in dupattas.
Now a days we have a very good demands from all over the parts of world as well as in local india.
We are doing now in scarfs from 55 x 2 metre, 1 x 2 metre, and in 55 x 2.30 metre.
There are various dyes in this 2 dyes 3 dyes 4 dyes and 5 dyes upto 10 dye colours in each bhandhani.
We are very happy to share this small informations with you about the Maharaja 's and Maharani's treasure of inda.
Hope you will be happy to have it .